Estate Management Advisory Committee
Estate Management Advisory Committee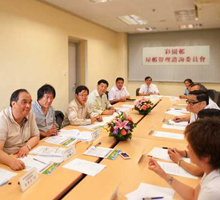 The establishment of Estate Management Advisory Committee (EMAC) aims to decentralise estate management to the local level. The scheme promotes communication between our tenants and frontline management staff and encourages tenants' participation in estate management matters with a view to enhancing effectiveness and efficiency of estate management.

Following a successful trial run in eight estates in 1995, we have extended the EMAC scheme to all our rental housing estates since April 1996.

Objectives
The EMAC is an estate-based committee with tenants' participation. Its objectives are:
To provide a dedicated and representative forum for the estate Housing Manager or Property Service Manager to communicate with and consult tenants on estate management matters, so as to gain tenants' understanding and support in the implementation of management policies.
To provide tenants with a greater say in estate management matters, and to strengthen the partnership between tenants and housing staff. EMAC establishes a formal avenue to involve tenants in public housing management and to further decentralise estate management to local staff.
To strengthen the Hong Kong Housing Authority's contact with tenants and to enhance communication with them.
To strengthen tenants' sense of belonging and collective responsibility for the well-being of the community through participation in estate management matters.
Click on the following if you want to know more about the EMAC scheme:
Partnering Functions with NGOs
To further promote community building and neighbourliness, the Housing Authority decided in July 2009 to invite Non-Governmental Organisations (NGOs) to organise partnering functions with our EMACs. Each EMAC is allowed to use up to 30% of the EMAC funds for organising community building activities in collaboration with the NGOs.
Biennial EMAC Seminar
The EMAC Scheme was introduced back in 1995 to provide more opportunities for the tenants to participate in estate management with a view to enhancing the operational efficiency and quality of estate management. Up to 30 June 2020, there are 165 PRH estates with EMACs established. Currently, an EMAC seminar will be organised every two years at which EMAC representatives gather to exchange views and experiences. The event also provides an additional avenue for the Housing Department (HD) to widely collect tenants' view and feedback on estate management issues.
Click on the following if you want to know more about the EMAC Seminar:
Contact Information
To learn more about the EMAC in your estate and its activities, please contact the local estate office.