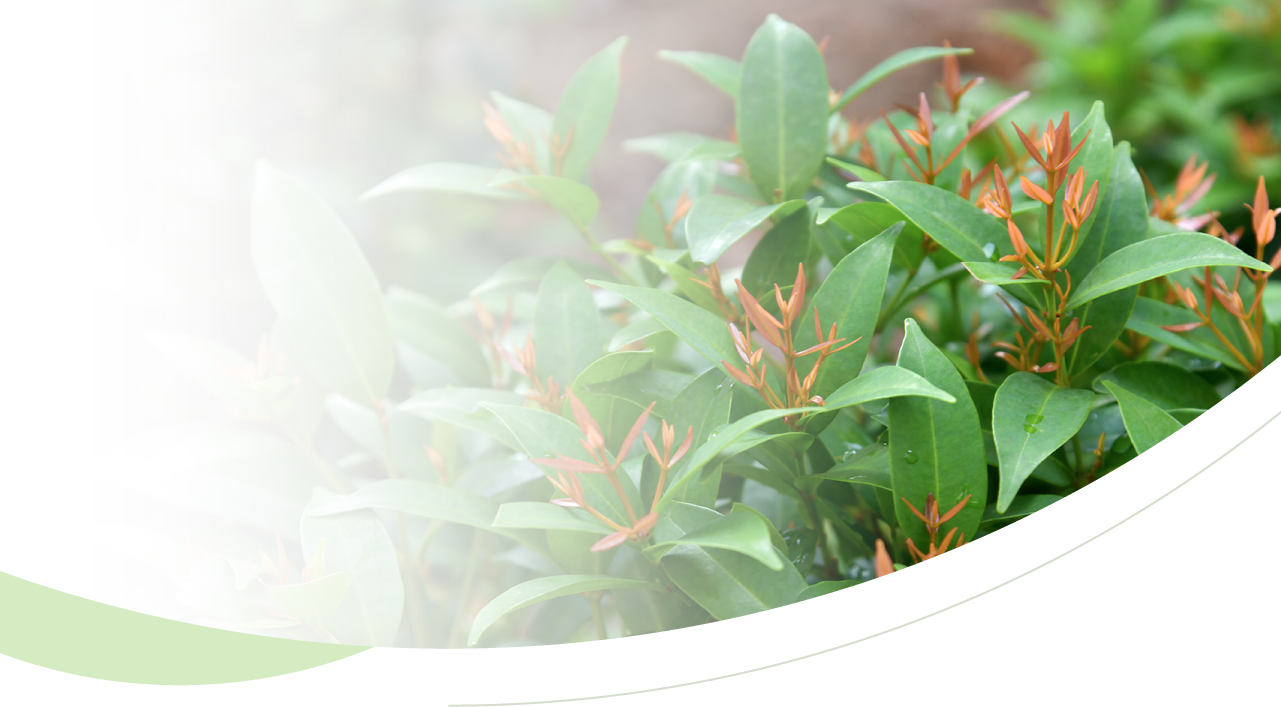 Care of
House Plant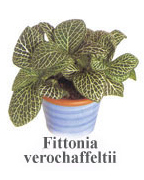 Fittonia verochaffeltii
It thrives in a well-lit, cool and well-ventilated environment. Water generously when the plant is growing vigorously in spring and summer. Keep the soil damp.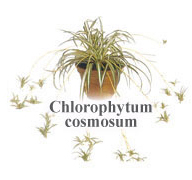 Chlorophytum cosmosum
If you want to buy a Chlorophytum cosmosum, choose one with dark green foliage. Water frequently in summer, but not in winter. Feed during the growing season.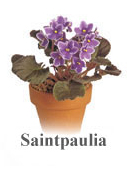 Saintpaulia
Keep it in a well-lit environment but away from direct sun-light in summer. Keep the soil damp and avoid rapid change of room temperature. When watering, take care not to splash on the leaves. Put damp peat around the pot. Feed regularly during the flowering season.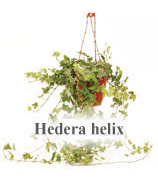 Hedera helix
It does not need a well-lit or warm environment, but cannot stand constant aridity. Syringe or sponge the leaves occasionally. Avoid over watering, especially during winter. Feed throughout the growing season.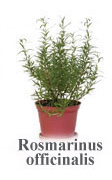 Rosmarinus officinalis
Water freely in summer and sponge the leaves occasionally. Feed throughout the growing season. Keep the soil damp and avoid re-potting when the plant is root-bound. Water sparsely in winter and prune after flowering. This plant can function as a mosquito repellent.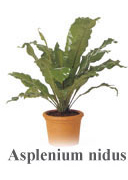 Asplenium nidus
Asplenium nidus is not easy to grow. A moist ambience and plenty of water are essential in summer. Keep out of direct sunlight. In winter, maintain the room temperature at 10°C at least.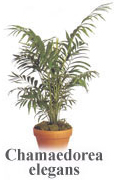 Chamaedorea elegans
Water freely in summer and sponge the leaves occasionally. Feed throughout the growing season. Keep the soil damp and avoid re-potting when the plant is root-bound. Water sparsely in winter.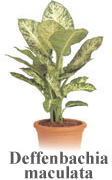 Deffenbachia maculata
Keep in a warm and shady place well away from fumes or pollutants. Water generously in summer but not in winter. Spray water on the leaves when it is hot and dry.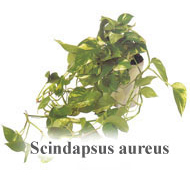 Scindapsus aureus
Keep the soil damp. Water generously. Do not touch young leaves and stems. Feed during the growing season. Sponge the leaves occasionally.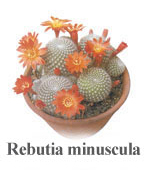 Deffenbachia maculata
It requires less water in late summer and need to be kept almost dry after mid-October. It grows well at 10°C to 28°C. Plenty of sunlight as well as cool and dry soil will help it blossom annually.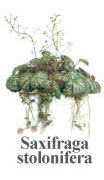 Saxifraga stolonifera
Grows best under cool and moist conditions. Prefers light but not direct sunlight. Feed during the growing season.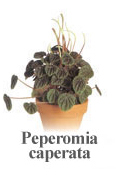 Peperomia caperata
Water carefully at all times to avoid the stem from rotting. It needs very little water in winter. Syringe foliage occasionally and keep the soil damp.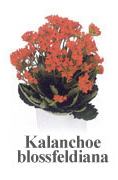 Kalanchoe blossfeldiana
It needs a more moist environment than other foliage plants. Feed regularly during the growing season. It blossoms in winter and spring.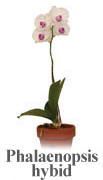 Phalaenopsis hybid
Buy grown-up plants instead of sprouts in early summer. Keep it in a well-lit place and make sure the soil is damp. Water sparsely in summer, normally once a week, depending on the environment. Feed during the growing season. Maintain room temperature at 10°C to 23°C. Prune the stalk after flowering. Re-pot and cut dead roots when necessary.
Growing potted plants at home is getting more and more popular. If you want to be a good gardener, here are some tips for you.
To make your plants flourish, you need to pay special attention to the following:
Temperature
A stable and moderate temperature between 10°C to 25°C will suit most house plants, though the requirement may vary for different species.
Light
Indoor plants can usually grow well in a shady environment. Some species, however, are more light sensitive. You should note:
White or cream walls/ceilings will increase the reflection of light in a poorly-lit room and help plants grow.
Turning the pot occasionally can prevent lop-sided growth as plants tend to bend towards the light source. But make sure you only turn it slightly each time and do not move the pot if the plant is at its flowering stage.
Young leaves should be protected from prolonged exposure to bright sunlight.
Ventilation
Opening a window or door can provide house plants with more fresh air. Placing a plant outdoors occasionally in mild weather will help strengthen its stems and increase its resistance to disease. Good ventilation will also help remove harmful fumes and trace of toxins.
Humidity
Most plants prefer a humid environment. You may:
Fill the space between the pot and the outer container or trough with peat and keep it moist at all times; or
Put the pot on a saucer half filled with pebbles and covered with water. Remember to refill the water once it has evaporated.
There are some more way to prevent the plants from drying up
Spray water on the leaves, but do not do so when they are exposed to hot sunlight. Spraying is best done in the morning, so that the foliage will no longer be wet by nightfall.
Wipe the leaves with clean water using a piece of soft cloth or a sponge.
Place hardy plants outdoors in mild weather.
Water
Plants cannot live without water, especially a seedling one − it may die in a single day! Although a foliage plant can survive a bit longer, in the end it will also die from dehydration. Watering is therefore very important to make house plants flourish. However, the interval between watering should be adjusted for different species of plants, the time of the year and different environments.
The time to water

Water your plant when the soil is dry, but make sure you do so before it has dried up completely.

Watering techniques

Use a watering can with a narrow spout. Fill up the space between the top of the soil and the rim of the pot, and allow the surplus water to drain. Do not leave any water in the container or saucer in which the pot stands.
Plants such as Africa Violet, Cyclamen and Gloxinia do not like water on their leaves. These plants should be watered from below by immersing the pots in water up to the level of the soil until the plants suck up sufficient water.
Never water plants in full sunlight as wet leaves may be scorched by the sun.
The best time to water is in the early morning or in the evening.
Nutrition
To thrive with beautiful blossom and handsome foliage, house plants must obtain adequate supplies of nitrogen, phosphates, potash and trace elements from the soil. It is more important to apply fertilizer to pot-grown specimen than it is to garden plants because once the essential nutrients in the compost have been exhausted, the roots cannot spread out to tap fresh reserves, like what garden plants do in the outdoor soil.
Fertilisation

Solid fertilizers are sometimes used for house plants, but if distributed unevenly, it can do harm to the roots. Liquid compound fertiliser is a better alternative as watering and feeding can be done at the same time. This makes the fertilising process easier and overfeeding can be avoided.

When to feed

There is no need to feed a newly re-potted plant as the compost will be good for about two months. After this initial period, regular feeding will be required unless the plant is at its dormant stage. For most plants, the best time to feed is from spring to early autumn which are the growing and flowering seasons.
Pest & Disease
Common Pest and Control
| | | |
| --- | --- | --- |
| Pest | | Control |
| Aphids | | Spray with Malathion |
| Red spider mites | | Spray liquid Derris |
| White flies | | Spray Malathion or Diazinon |
| Scale insects | | Rub off with a cotton bud soaked up with methylated spirit |
Common Disease and Control
| | | |
| --- | --- | --- |
| Pest | | Control |
| Rot (Rotting at stems and roots) | | Use sterilized soil as compost and spray with Benlate |
| Mildew (White mould on stems and leaves) | | Improve the growing environment; move the plant to a well-ventilated place; apply Benlate systemic fungicide |
| Shot-hole (Tiny round holes in the foliage) | | Prune well or discard the affected plant |