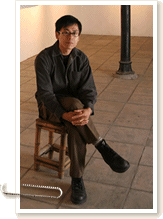 Ducky Tse
Tse has been engaged in journalism and professional photography for more than ten years. Over the years, he has won a number of awards from the Hong Kong Press Photographers Association. His works have drawn extensive attention from the media in both Hong Kong and the Mainland, and some of them have become part of the collections of the Hong Kong Heritage Museum. His recently published photo collections include Happy Cows and Please let me walk if I have no wings. Tse is currently working as a freelance photographer.
I grew up in an old public housing estate.
The most fascinating element of an old housing estate is its aura which I have been accustomed to since I was a kid. It is so ordinary but at the same time so unique that it can easily arouse my imagination.
I love taking in this aura because it is intimate and always reminds me of my childhood - scenes such as myself riding a tricycle along the long common corridor, hawkers peddling pudding cakes, and neighbours crowding in the tiny space of a 80 sq ft room to watch the popular television drama. I still recall that once I was punished by my mother and not allowed to go out. With reddened eyes, I gazed through the metal gate as my best friends were having fun in the corridor...
Taking pictures at So Uk Estate gave me the opportunity to experience once again the aura of reminiscence. One by one, I captured touching scenes that reminded me of my childhood in a public housing estate. The aura of So Uk, both diverse and unique, has created the wonderful atmosphere in the images I captured in this shooting exercise.
As an artist, I have made use of my experience and professionalism to capture the struggles of the older generation for a better future. I hope you can also take in that unique aura of old housing estates from the pictures.