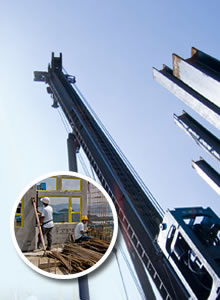 We enlist the support of industry stakeholders in publishing best-practice guides, and in running safety training programmes and promotion events. We also mandate specific safety training requirements in our contracts to help fortify core competencies of relevant personnel.
Silver Card
Personnel working in specific high-risk trades are required to obtain the Silver Card training and certification—ensuring they are made safety-aware and are able to cope with hazardous working activities on site.
Eleven trades have been identified as requiring workers to hold a Silver Card:
Painters and decorators
Carpenters
Demolition workers (building)
Plumbers
Bar benders and fixers
Plasterers and Tilers
Bamboo scaffolders and metal scaffolders
Construction material riggers
Curtain wall installers
Tower crane workers (erecting, dismantling, telescoping and climbing)
Lift mechanics and lift installation workers (installation and maintenance)
Mandatory training for contractors' staff in new works contracts
We believe that enhancing the safety knowledge of personnel will help sharpen their safety management skills on site. Therefore, we mandate that contractor's site management and supervisory staff comply with minimum safety training requirements. This can be achieved by attending and completing a 12-hour Basic Safety Management Course and a 12-hour Basic Accident Prevention Course. Alternatively, staff who have already completed the 43-hour Safety Supervisor (Construction) Course are also deemed to have satisfied the mandatory safety training requirements.
Toolbox talks and safety inductions
We specify that 'tool-box talks' are provided by contractors to workers engaged on site in new works contracts. The topics of these talks should be relevant to the activities of each particular site and prevailing safety concerns at the time. Contractors shall ensure that tool-box talks are carried out by safety supervisors, foreman or gangers who have received formal training from approved training organisations. This initiative is also linked to the Pay for Safety Scheme.
Mandatory training for Housing Department new works staff
We have launched two mandatory training programmes to reinforce core competency, knowledge and skills on site safety and health management as follows:
The Site Safety Training Programme for resident site staff, covering:

module A: 2-day basic safety management
module B: 2-day basic accident prevention
module C: half-day construction safety
module D: 1.5-day occupational health

The Safety PASSPORT Training Programme for professional grade personnel/ professional service providers, covering:

module A: 2-day safety management system and safety audit
module B: 1-day safe design
module C: 1-day safety management tools

The Safety PASSPORT Training Programme for technical grade personnel/ planner and landscape architect, covering:

module A: half-day risk assessment
module B: 1-day safe design
Encouraging participation in site safety campaigns
We provide incentive payments through the 'Pay for Safety' Scheme to encourage more contractors to participate in territory-wide safety campaigns—fostering a culture of safety.
Safety workshops and annual site safety forum
We convene regular safety workshops and an annual site safety forum in conjunction with the members of the Housing Department Site Safety Sub-committee (HDSSSC) to raise safety awareness on thematic safety topics.
Safety and health publications
To help foster a safety culture we actively engage industry experts and stakeholders, on an on-going basis, to jointly publish and promote best practices on key safety issues. A wide variety of print publications, videos and alerts to promote safety and health have already been released.