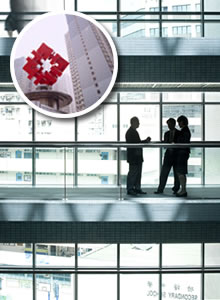 The Housing Department Environment, Health and Safety Committee (HDEHSC) is responsible for the development and formulation of policy direction on Environment, Health, Safety and sustainability issues. The Committee is chaired by the Permanent Secretary for Transport and Housing (Housing) who also assumes the office of Director of Housing. The HDEHSC is underpinned by the Housing Department Site Safety Sub-committee (HDSSSC) which is chaired by the Deputy Director of Housing (Development and Construction)
Structure of HDSSSC
HDSSSC Organization Chart
Public organisations (policy makers, law enforcement authorities, statutory bodies and training authorities)
Development Bureau
Labour Department
Buildings Department
Occupational Safety and Health Council
Construction Industry Council
Vocational Training Council
Contractors/service providers associations
Hong Kong Construction Association
Hong Kong Construction Sub-contractors Association
The Hong Kong Federation of Electrical and Mechanical Contractors Limited
The Hong Kong Association of Property Services Agents
Hong Kong Cleaning Association
The Hong Kong Chamber of Cleansing Contractors Limited
Trade unions
Hong Kong Construction Industry Employees General Union
Hong Kong and Kowloon Electrical Engineering and Appliances Trade Workers Union
Construction Site Workers General Union
Internal members of Housing Department
Departmental representatives from the Development and Construction Division and the Estate Management Division
Staff representatives of site staff grade and professional grade
HDSSSC terms of reference
The Housing Department's Site Safety Sub-committee assists the HDEHSC in overseeing site safety management measures for works contracts. The terms of reference of HDSSSC include:
Reviewing, appraising and advising on site safety management measures for both new works construction contracts and maintenance contracts of the Housing Department
Site safety management measures including connection with, but not to limited to, the following:

Strategy and implementation
Site safety performance statistics
Contract provisions
Contractors' performance assessment and monitoring
List management
Coordination with external parties and government departments
Legislation on site safety
Site safety campaigns
The membership of the HDSSSC includes concerned industry stakeholders across the board encompassing public organisations, contractors/service provider associations, trade unions and internal members of the Housing Department.
Empowerment: driving safety culture from the top
With membership spanning a wide spectrum of concerned industry sectors, the HDSSSC is responsible for reviewing the formulation and implementation of site safety strategies. This provides the Housing Authority with a platform that allows us to work closely with and engage stakeholders in the review and appraisal of safety initiatives, implementation of safety campaigns and partnership projects and dissemination of safety information.
To share a common vision with industry players and facilitate closer working relations with them, HDSSSC members are also given the opportunity to regularly review and offer advice on safety management measures in connection with our new works construction and maintenance works contracts.