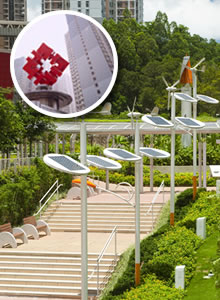 Embracing the 4Cs: Caring, Customer-focused, Creative and Committed as our core values, we, serving as a public sector client strive to uplift site safety standards and foster safety culture through the supply chain. With globalisation, greater social awareness and more efficient communication network, the concept of corporate social responsibility beyond the traditional framework has gained new impetus. Promoting site safety is a key dimension to our policy that underscores both our own, and our business partners' corporate social responsibility.
It is our firm belief that quality and safety must go hand in hand. 'Safety First' is a fundamental principle and safety assurance is a prerequisite for productivity. Achieving site safety requires commitment from every player in the construction and maintenance works value chain, team building, and a robust management framework for both contractors and service providers. We aim to provide the catalyst to help raise industry safety standards, we also require them to work diligently on contractual obligations where site safety has been built into the system.
We seek to instil a safety culture and continually enhance site safety and health standards via means conducive to proactively mitigating and managing risks by fostering the creation and maintenance of environmentally friendly, clean, and well-organised work sites.
Under the umbrella of the Safety and Health Policy, the Housing Authority strive to:
enhance the safety and health of all persons involved in Housing Authority projects
provide information on safety and health criteria
make safety and health performance one of the considerations in tender selection
monitor contractor's safety performance by independent and in-house assessment
compile safety profiles of contractors for continuous assessment
promote safe construction technology through partnership