Accessibility
The Housing Authority / Housing Department (HA/HD) Website has been designed to be accessible to as many visitors and be compatible with all the most commonly used internet browsers as possible. Here you can learn about the accessibility guidelines which this website conforms with, and the accessibility features adopted for the website to improve accessibility of its contents.
General Accessibility Features
Accessible using Popular Internet Browsers
The website has been tested on popular internet browsers. User can access it with Internet Explorer, Mozilla Firefox, Safari or Google Chrome. But exactly how a webpage is displayed differs between browsers, computers and operating systems.
Software Required for Best Viewing
The website includes documents and files in a number of formats such as PDF, Flash and others. You may need to download and install additional software to read these files.
Linear Viewing Mode
The HA/HD Website is also available in a Linear Version, with the contents arranged as a list on the left-hand side of the webpage so users can read webpage text more easily. To browse the linear version of the HA/HD Website, select LINEAR VERSION from the top navigation menu of the page when accessing www.housingauthority.gov.hk. Alternatively, input this URL directly into the internet browser:
www.housingauthority.gov.hk/linear/en/index.html
Mobile Version
A Mobile Version of the HA/HD Website is also available, providing quick and easy access via mobile devices. You will automatically be directed to the mobile version if you access the HA/HD Website with your mobile device. You may also click the following link for the mobile website:
//www.housingauthority.gov.hk/mobile/en/index.html
Web Accessibility Conformance
We are committed to ensuring that our website conforms to the World Wide Web Consortium (W3C) Web Content Accessibility Guidelines (WCAG) 2.0 Level AA requirements to the maximum extent possible. However, some multi-media contents, PDF and archive materials may not have all Level AA accessibility requirements incorporated due to technical constraints. We apologise for any inconvenience caused.
If you have any enquiries, please email us at hkha@housingauthority.gov.hk or call the Housing Authority Hotline on 2712 2712.
Keyboard-based Navigation
This website has been optimised for visitors who may have difficulty using a mouse, and who rely on their keyboard for browser navigation. The website contents and features have been designed to be accessible using a keyboard. Visitors can use the tab key, for example, to navigate all menus, hyperlinks, and input boxes. Alternatively, the sitemap page provides visitors with a full navigation menu. You may click the following link for the site map:
//www.housingauthority.gov.hk/en/global-elements/site-map/index.html
Alternative Text
Graphical elements in the website, including photos, logos and banners, are tagged with alternative text descriptions so that screen readers can identify the graphical elements being displayed.
Hidden Text
The HA/HD Website contains hyperlinks throughout, and hidden text has been built into the webpages (e.g. Skip to Main Content, etc.) to make the hyperlinks readable by screen readers. This enables visitors using a screen reader to access information they require easily.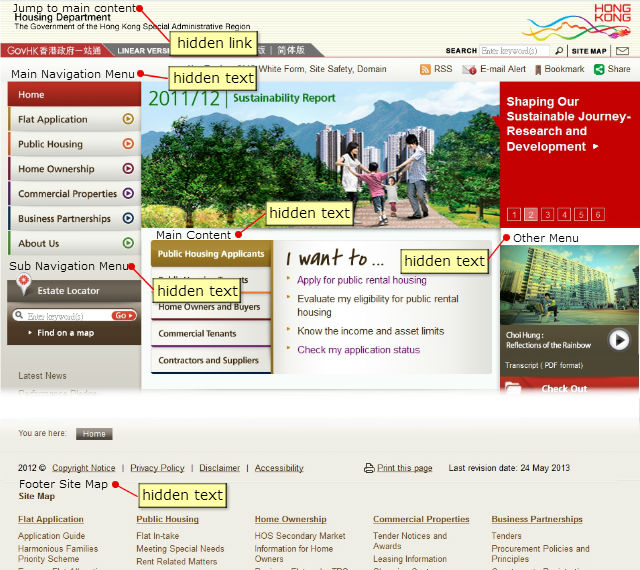 Enlarged Text Feature
Text on the website can be enlarged using the text size buttons in the top navigation menu.