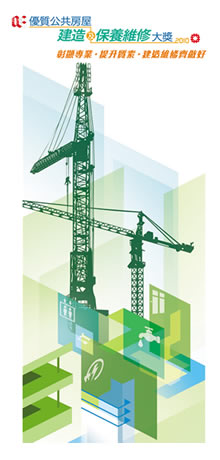 Safety awards to Housing Authority's contractors and projects
The Housing Authority recognises the importance of positive achievements and promotion of a culture of safety within the industry. Safety awards under the Annual Quality Public Housing, Construction and Maintenance Awards and various safety campaigns in the territory provide the opportunity to give credit to contractor / service provider organisations that demonstrate excellence in fostering safe working practices in their projects. Each year, the top performers of our business partners are selected to receive awards in recognition for running works projects that demonstrate excellent site safety records and management. These annual events also help showcase the importance of workplace safety both in the industry and the wider community.

Safety leadership awards
Housing Authority has been granted safety leadership awards for its continuous effort in achieving the highest standard of health and safety in its projects, in leading its project teams and contractors to attain such standards with a very practical approach, and in initiating and maintaining safety leadership actions that have positively influenced the entire industry.

Safety Charters
The Housing Authority requires its contractors and service providers to set the highest site safety standard and ensure a healthy and safe work place. Signing of safety charters marks the commitment of the stakeholders in partnering for a safety culture.

Safety Campaign
The Housing Authority is enthusiastic in participating in the territory-wide safety and health campaigns to promote safety awareness and foster safety culture in the industry. We solicit the support of our business partners, consultants, contractors and service providers, to join the events for boosting the morale of frontline works personnel and giving recognition to their contribution in maintaining a safety and health performance at the workplace.