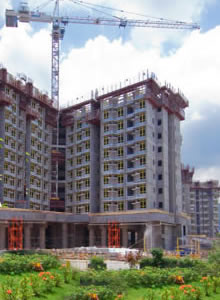 Contractors, as employers and duty holders, must observe safety regulations and by-laws, and ensure a safe workplace for their employees by adhering to safe working practices at all times on-site. In addition to such regulation, the Housing Authority also plays a key role in requiring contractors to uphold higher safety and health standards. This is achieved through systematic implementation of three key strategies run concurrently in a long-term strategy to promote best practices that help facilitate a safety culture. We call this our 'three-pronged approach'.
First prong: procurement strategy and performance monitoring
As a public sector client, we have considerable leverage with our contractors to instil a safety culture throughout the entire procurement process. This approach encompasses: selection of tenders, stipulation of contract requirements, monitoring contractors' performance, motivating those who perform well and sanctioning those who fail to fulfil their obligations. Contractors, as employers, must then effectively cascade the safety culture through the supply chain right down to the frontline workers on site.
Second prong: contract requirements and administration
We require all our sites to be well managed using best practices, maintained in good order, and staffed with a properly trained and qualified workforce. Use of best practices above and beyond regulatory requirements is actively promoted through measures to:
•better integrate safety into site management
•enhance physical site safety
•foster safety awareness and training
Third prong: partnership through research, promotion and training
To enhance safety awareness and nurture a safety culture, we actively engage and forge partnerships with stakeholders. We regularly convene safety seminars and site safety forums with all external standing members of the Housing Department Site Safety Sub-commitee to raise safety awareness on thematic safety topics. We also work closely with the Construction Site Safety Committee of the Construction Industry Council (CIC) to promote site safety measures.