Building Information Modelling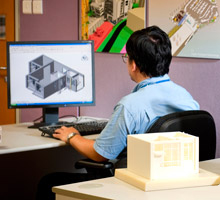 Building Information Modelling (BIM) is the process of generating three-dimensional, digital representation of building data throughout its life cycle. BIM is an innovative technology for bridging communications between the architecture, engineering and construction industries. Also, with the data packed BIM models, various sustainability design and environmental studies could be carried out, such as lighting, ventilation, energy, carbon emission and green design, etc.

The Housing Authority (HA) has started piloting BIM since 2006. We have used BIM for design visualisation and progressively carried forward to subsequent stages to benefit the chain of stakeholders along the building life cycle, from design to documentation, construction and facility management. Through pilot and actual implementation of BIM in our projects, we wish to improve our building quality by optimising our designs, improving coordination and reducing construction waste.

Standards, guidelines and component families are essential for successful BIM implementation. They are required for effective model building, electronic file management and communication between BIM users. To facilitate the process, we have prepared our in-house BIM standards, user guide, library component design guide and references. Please click on the links below to view these documents.
Application of BIM
Since 2006, the HA introduced BIM in its development of public rental housing projects, more than 19 projects have already adopted BIM technology at various project stages, ranging from feasibility study to construction stage. Our professionals and technical staff have accrued essential experience and mastered crucial techniques in BIM implementation. We see encouraging results emanating from recent breakthrough in BIM applications in structural engineering field for demolition, excavation and volumetric precasting works, apart from the strategic introduction of BIM as a standard design tool for housing projects which were shared as follows:
| | |
| --- | --- |
| | So Uk Demolition |
| | To help identify and resolve demolition difficulties by a real-time simulation of the first-ever demolition of Y-shaped domestic blocks with cantilevered corridors and balconies. |
| | |
| | So Uk Redevelopment |
| | To start a design collaboration by a "Single Model", a common platform with proven capability of producing structural framing plans and extending use to other disciplines. |
| | |
| | Kwai Chung Area 9H |
| | To estimate soil and rock excavation quantities in the foundation works by modelling the footings together with the contractor's excavation and shoring works. |
| | |
| | Kwai Chung Area 9H |
| | To help identifying and solving construction difficulties by building up models for various stages of the Excavation & Lateral Support Works (ELSW), a physical model of a scale approximately 1:250 produced by the 3D colour printer installed at our BIM Centre has proved very useful for optimisation, planning and monitoring of the complicated ELSW. |
| | |
| | Kai Tak Site 1B |
| | Motivated by the momentum of the Housing Department in BIM application, the contractor has built a 4D BIM model for its innovative design of the Volumetric Precast Bathroom (VPB) with special connection details that are new to Hong Kong. By simulating and animating the series of installation works, particularly the jointing works in the BIM model, potential construction difficulties could be identified in early stage with a view to improving the buildability prior to any site mock up or mass production in the precast factory. |
| | |