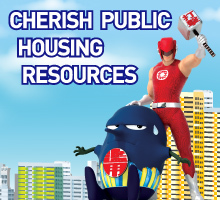 Misuse of public rental housing (PRH), as well as other forms of subsidised housing, will not only lead to unfairness and inefficiency in resource allocation, but also prolong the waiting time of those in genuine need of public housing. We are therefore committed to safeguarding the rational utilisation of public housing resources by curbing any tenancy abuse.

Any public rental housing tenants found to have abused public housing resources may have the tenancies terminated and be liable to prosecution.
Examples of Public Housing Abuse
The following are some examples of public housing abuse -
Subletting
Non-occupation
Non-domestic usage (e.g. commercial activities, storage)
Operating illegal activities (e.g. gambling, storage of drugs)
False declaration of information (e.g. income, assets, marital status or household particulars)
If the abuse is of a more serious nature, we will terminate the concerned tenancy without prior warning. The ex-tenants and all authorised persons aged 18 or above whose tenancies have been terminated due to breach of the Tenancy Agreement will be debarred from making fresh Waiting List Applications for two years from the date of tenancy termination. They will not be offered flats better than their previous abodes in terms of geographical locality, age of building and floor level.
The more serious breaches include cases of -
Subletting (with or without rental income)
Staying in an alternative accommodation or not retaining regular and continuous residence in the flat for over three months
Using the flats for illegal activities
Public Housing Resources Management Sub-section
In addition to the routine tenancy control carried out by our estate offices, we have also set up the Public Housing Resources Management
Sub-section (PHRM) under the Housing Department to combat abuses of public housing resources. Apart from looking into suspicious cases, the PHRM also closely examines the declarations of income and assets made by PRH tenants and applicants of various subsidised housing schemes for prevention of public housing abuse.
Ways to Report Abuses
To report abuses of public housing resources, you may -
All information provided will be kept strictly confidential.