ISO Certification of CSD Upgraded
Main content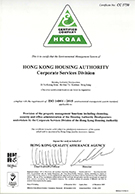 The Corporate Services Division (CSD) of the Housing Department has recently upgraded its Environmental Management System (EMS) certification to ISO 14001:2015 standard for the property management functions of Housing Authority Headquarters. ISO 14001:2015 is intended for use by an organisation seeking to manage its environmental responsibilities in a systematic manner that contributes to the environmental pillar of sustainability.

CSD obtained the first ISO 14001:2004 certification for its EMS in 2013. A systematic and structured approach has been established to identify environmental aspects, obligations, objectives, and to set targets for better evaluating environmental performance. With the great effort and support of colleagues for continuous improvement, CSD has upgraded its EMS to the most updated ISO 14001:2015 standard for the enhancement of environmental performance, fulfilment of compliance obligations and achievement of environmental objectives.

Conducted by the external independent auditor of Hong Kong Quality Assurance Agency, the audit report of the latest upgrading exercise particularly praised our comprehensive monitoring on environmental performance to ensure the consistent implementation of EMS and our good housekeeping work. Looking ahead, we will continue to strive for sustainable improvement on the relevant environmental works.