Hosting the Conference of the Housing and Urban Public Corporations in Asia
Main content
Hosted by the Hong Kong Housing Authority (HA), the 23rd Conference of the Housing and Urban Public Corporations in Asia (A-HUC) was held between 31 October and 2 November. The theme of the three-day Conference was "Housing Challenges in the 21st Century". A total of 27 delegates from the four member organisations, namely the Housing and Development Board (HDB) of Singapore, the Korea Land and Housing Corporation (KLHC) of South Korea, the Urban Renaissance Agency (URA) of Japan and the HA, exchanged their latest experience, new initiatives and innovative technologies deployed in their housing projects to address the common challenges that the housing organisations in the Asia region are facing. Such challenges included surging demands, land shortage, ageing buildings and changes in demographics.
Main content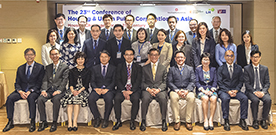 Main content
The Conference was chaired by Ms Connie Yeung, Deputy Director of Housing (Development and Construction); and the HA delegation was led by Mr Stephen Leung, Assistant Director of Housing (Project). The two papers presented by the HA delegates were "Delivering Quality Homes through Innovation, Technology and Community Engagement Measures" and "Rationalisation of Public Housing Resources through Implementation of the Rationalisation of Policies and Combating Tenancy Abuses". The Conference has been video-taped and the video will be uploaded onto the HA e-Learning Portal for colleagues' sharing.

The A-HUC Conference was jointly founded by the HDB, the KLHC, the URA, and the HA in 1995. Aiming at sharing experience and new ideas on public housing development, the four member organisations take turns to hold the annual conference. The KLHC will be the host of the next year's conference.