"My Dream Home" Honoured with Gold Award for Outstanding Exhibit (Landscape Display)
Main content

The Housing Department (HD) has actively participated in the annual Hong Kong Flower Show by designing for this year's event a "My Dream Home" garden, which echoes the theme of the Show – "When Dreams Blossom". The landscape design has proudly won the Gold Award for Outstanding Exhibit (Landscape Display).
Main content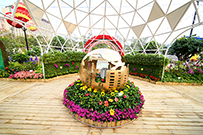 My Dream Home garden invites visitors to a wonderful journey along a star-studded walkway flanked by colourful arches. At the centre of the garden is a carved wishing ball that fuels visitors' imagination of their dream homes. The sky lanterns greet their onlookers with good wishes. A cart made of recycled wood at the entrance finds itself brimming with boxes of gifts and people's hope and aspirations. Inside the cart are also balloon decorations celebrating the overwhelming joy of a dream coming true.
Main content
Fairytale cottages welcome visitors to a tranquil and relaxing space. A few steps away stands a wishing tree brightened up by a rainbow bridge over a sea of dazzling flowers, adding life and vibrancy to the entire place. Richly planted with a wide variety of flowers, the display area offers a kaleidoscope of colours and texture, enticing visitors to an amazing fairyland. Next to the cottages is a little garden plot with a variety of colourful fruits and vegetables, blending well with tree-like structures inside the garden made of recycled wood and plants. A star-shaped flowerbed makes a perfect foil for the 3D logo of the Hong Kong Housing Authority (HA), which gives the garden a luminous glow.
Main content
Organised by the Leisure and Cultural Services Department, the Hong Kong Flower Show 2019 is held as the details below. Members of the public are welcome to visit the HD's award-winning My Dream Home garden.
| | |
| --- | --- |
| Opening hours: | 9 am to 9 pm, 15 to 24 March |
| Venue: | Victoria Park, Causeway Bay |