Quality Public Housing Construction and Maintenance Awards
Quality Public Housing Construction and Maintenance Awards
Results of the "Quality Public Housing Construction and Maintenance Awards 2021" jointly organised by the Hong Kong Housing Authority (HA) and industry organisations were announced and the award presentation ceremony was held on 22 November at the Housing Authority Headquarters.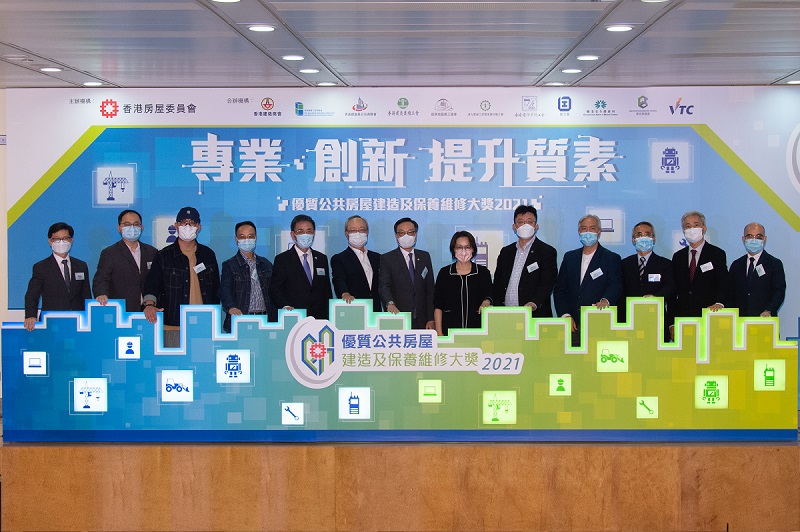 More than 130 awards were presented to outstanding contractors, sub-contractors, project teams, supervisors and frontline workers, including four newly introduced awards to commend contractors' outstanding performance in fighting epidemic and to encourage industry practitioners to use more innovative technologies. The new awards are "Fighting Epidemic at Sites", "Merit Award for Fighting Epidemic", "Innovative Proposal in Building Construction (Robotic Application)" and "Outstanding Intake Ambassadors".

This is the 15th award presentation ceremony. Apart from paying tribute to parties with outstanding performances in construction and maintenance of public housing, the activity also encourages industry practitioners to be innovative and through a wider application of technologies, to enhance the quality and cost-efficiency of public housing construction and maintenance.


Video (Chinese only)
Outstanding Projects (Chinese only)
Awards List (PDF format)
Award Presentation Ceremony Photo Album
Comprising representatives of the HA and co-organisers, the judging panels assessed nominees' performances over the past two years stringently based on such criteria as work quality, workmanship, environmental protection, occupational safety and health, ethical integrity, partnership and customer service. Let us applaud the winners!


Co-organisers

Hong Kong Construction Association Ltd., Hong Kong Federation of Electrical & Mechanical Contractors Ltd., Hong Kong Construction Sub-Contractors Association, Hong Kong Construction Industry Employees General Union, Construction Site Workers General Union, Hong Kong & Kowloon Electrical Engineering & Appliances Trade Workers Union, Hong Kong General Union of Lift and Escalator Employees, Labour Department, Occupational Safety & Health Council, Construction Industry Council and Vocational Training Council.