Total Maintenance Scheme
Total Maintenance Scheme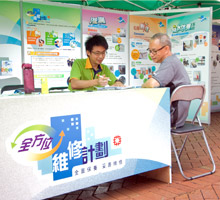 Introduced in 2006, the Total Maintenance Scheme is a rolling programme for inspection and repair of the rental flats in our public housing estates and Tenants Purchase Scheme estates. The scheme features proactive in-flat inspection in regular cycles, prompt response to requests for repairs and education programmes for residents in a bid to prevent minor repair issues from blowing up into major problems.

Our In-flat Inspection Ambassadors visit individual households, surveying the flat conditions, fixing minor defects on the spot and issuing works orders for prompt rectification of more serious problems. Such records are input into a comprehensive database that allows us to trace the conditions and repair history of the flats to facilitate effective maintenance in future.

At the same time, publicity campaigns are organised to educate residents on the proper use and maintenance of the fittings and facilities provided in public housing flats.