Use of Hydraulic Concrete Crusher in Demolition Works
Use of Hydraulic Concrete Crusher in Demolition Works
Purpose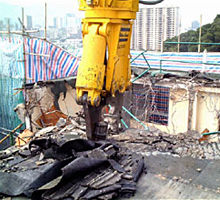 This guideline is to share the information with the Construction Industry on the use of Hydraulic Concrete Crusher (HCC) for demolition works and on the implications of its use based on the experience gained in the trial use of HCC in a number of Housing Authority (HA) projects.
Use of Hydraulic Concrete Crusher (HCC) in Demolition Works
Noise generated from construction sites is very common and need to be properly controlled so as to minimize these nuisances to nearby Noise Sensitive Receivers (NSRs), particularly from the site carrying out demolition works.
The use of HCC is one of the most practical and economical demolition methods to reduce the noise nuisance during the demolition works to the level comply with HA specification, with its low noise emission. This method provides a practical solution if the predicted noise level at nearby NSRs will be exceeded by using traditional Hydraulic Breakers.
With the success of using HCC in some trial projects, it is now a mandatory requirement to use HCC for demolition works in HA sites unless there is practical reason leading to the use of HCC infeasible which shall be considered on project basis. Nevertheless, in the crushing process of HCC, it could be rather difficult to control the falling of small-sized debris from the parametrical walls and beams. Therefore, the following safety precautionary measures are recommended and included in method statements if HCC is to be used:
The scaffolding to be double layer type bamboo or steel scaffolding;
The protective screen to be thicker and stronger;
More frequent cleansing of debris at catch-fans is to be carried out to prevent over-loading of the catch-fan. Cleansing on daily basis is recommended;
Adequate supporting props and false-works have to be provided, the design of which must be prepared and certified by qualified engineer; and
The HCC operator should be trained by demolishing minor structures at ground level and with sufficient experience.