Healthy Ageing in PRH Estates
The Housing Authority has been organising the "Healthy Ageing in PRH Estates" programme to encourage "active ageing" among elderly tenants.
Starting from 2016/17, we have been collaborating with the Hong Kong Polytechnic University (PolyU) and the Department of Health (DH) to further promote disease prevention among them.

Under the programme, the Henry G. Leong Mobile Integrative Health Centre of PolyU visits various public housing estates to provide free health checks, follow-up and referral services for elderly tenants.

Inside the mobile health centre, a PolyU Advanced Practice Nurse is coaching an elderly tenant stretching exercise to relieve her back pain.
Free health talks cum workshops organised by PolyU and the Oral Health Education Unit of DH are also part of the programme. Elderly tenants from various districts are invited to join the talks to learn more about healthy diet, proper exercise techniques and oral health.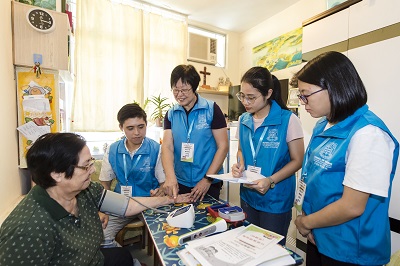 PolyU's professional medics photographed with elderly tenants after giving them a talk cum workshop on dietary for hypertension management.
A dental therapist of the Oral Health Education Unit of the Department of Health shows elderly tenants the proper ways to maintain oral health.

A dentist of the Oral Health Education Unit of D H presents to elderly tenants oral health messages.