Caring Communities
Caring Communities
Healthy Ageing in PRH Estates 2019-21
The Hong Kong Housing Authority has been organising the "Healthy Ageing in Public Rental Housing Estates" programme for years to promote active ageing among them.

In the 2019-2021 programme, we continue our collaboration with the School of Nursing of The University of Hong Kong (HKU) and the Oral Health Education Division (OHED) of the Department of Health to organise Home Visits, Mobile Health Assessment Stations and Health Talks for elderly tenants.

Under Home Visits, the HKU School of Nursing team visits elderly households and provides the tenants with free health assessments and health tips. Those cases with special needs will be referred to NGOs for follow-up.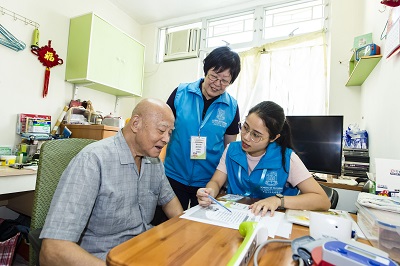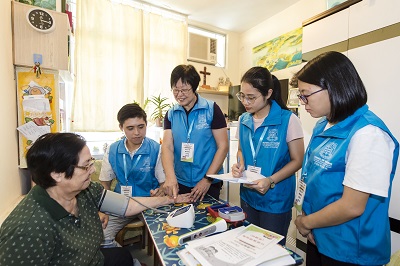 The HKU nursing team provides health assessment for elderly tenants at their home.


At the same time, mobile health assessment stations have been arranged at public housing estates or shopping centers in different areas in Hong Kong. At the stations, elderly tenants will be given free tests on blood pressure, body fat and grip strength measurement, macular degeneration screening, etc. Exhibitions on sarcopenia are held alongside the stations to educate the elders how to strengthen their muscle so as to prevent falls and how to maintain a healthy diet.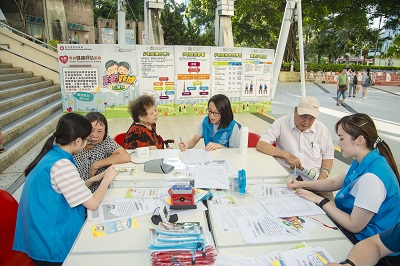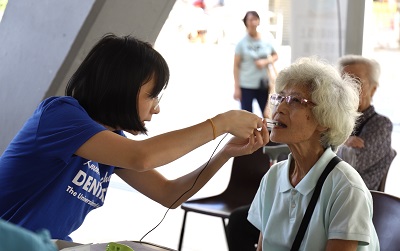 (Left) Elderly tenants are receiving health assessments at a mobile health station; (right) a tenant is having a chewing function test.

To allow more elderly tenants to benefit from the programme, health education talks on sarcopenia and oral health delivered through interesting activities and interactive games are organised in Community Halls in different districts.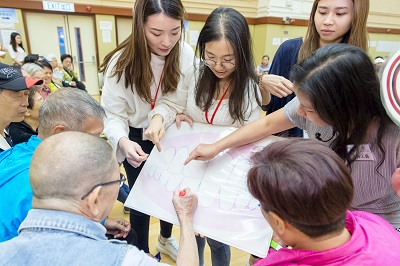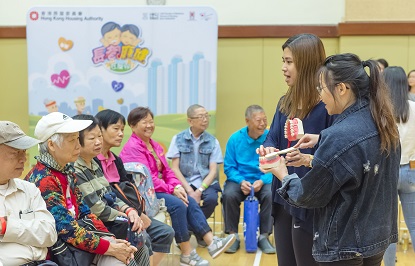 (Left) Elderly tenants are reminded to clean gingival margin (gum margin) through an interactive game; (right) Student dental hygienists are demonstrating to elderly tenants the proper ways to clean their teeth.