Caring Communities
Caring Communities
Healthy Ageing in PRH Estates 2018/19
The Hong Kong Housing Authority has been running the "Healthy Ageing in PRH Estates" programme for years to show its care for elderly tenants and promote active ageing among them.

This year, in collaboration with the School of Nursing of The University of Hong Kong (HKU) and the Oral Health Education Unit (OHEU) of the Department of Health, we provided elderly tenants in different districts with free health assessments, oral health education and health tips.

Under the programme, a home visit pilot scheme was introduced in Sai Wan Estate. The HKU nursing team visited participating elderly households to provide them with free health assessments. Elderly tenants with special needs would be referred to an NGO for follow-up.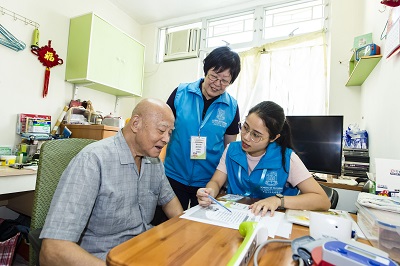 The HKU nursing team provides health assessments for an elderly tenant at his home



Mobile health assessment stations have also been arranged for 14 public housing estates or shopping centers. Elderly tenants were given free tests on blood pressure, body fat and grip strength, and macular degeneration, etc. Alongside was an exhibition on Sarcopenia to educate the elderly how to prevent fall risks.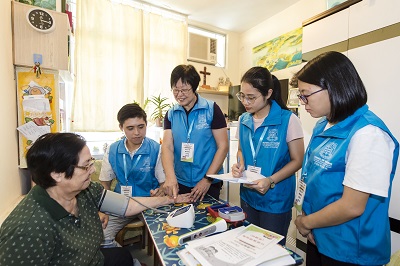 The mobile health assessment station and exhibition first launched at Domain. Professor Chia Chin Lin, Head of School of Nursing, The University of Hong Kong (six from left) pays a visit to show her support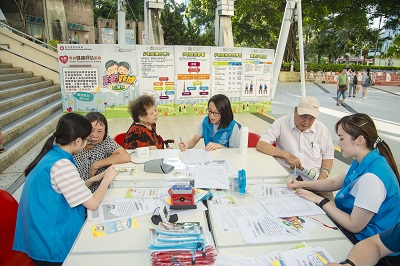 A member of the nursing team is assessing an elderly tenant's health conditions attentively



This is also the third consecutive year that we have joined hands with the OHEU to promote oral health among our elderly tenants. Talks were organised for them in various districts.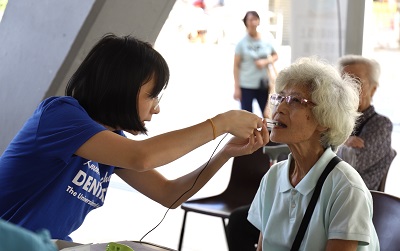 A dental officer of the Oral Health Education Unit of Department of Health presents to elderly tenants oral health messages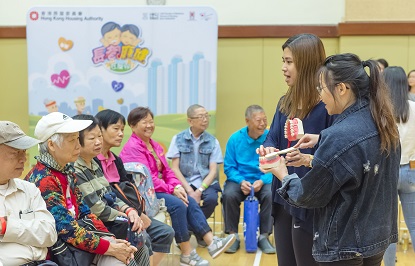 A dental therapist is demonstrating to elderly tenants the proper ways to clean their teeth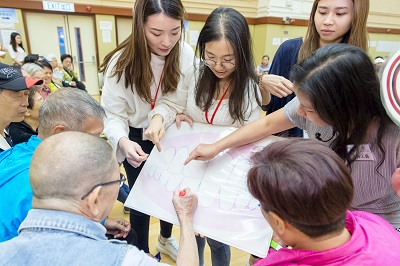 Oral Health tips effectively delivered to elderly tenant through well-orchestrated interactive games