Property Management
Property Management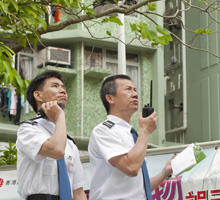 A safe, healthy and pleasant living environment starts with good property management. With this in mind, we, the Housing Authority, have entrusted the overall management of our public rental housing (PRH) and ancillary facilities to our executive arm, the Housing Department (HD).

Given the magnitude of our PRH stock, we have to outsource the property management of some of our PRH estates to property services agents (PSAs) in a bid to enhance service quality and cost effectiveness. Currently the management of about 60% of our rental estates has been outsourced to PSAs, while the rest are directly managed by the HD.
The PSAs perform a full range of property management duties including cleaning, security, rent collection, minor maintenance and repairs, as well as improvement works. They have to set up property management offices at the outsourced estates to provide customer services to the tenants directly. They also provide preliminary frontline tenancy services such as explaining housing policies and application procedures, distributing standard forms and notification letters, assisting tenants in completing forms and applications, arranging direct contacts between tenants and HD staff, etc.

Keeping Our Estates Clean
We strive to provide a clean and healthy living environment for our tenants through a range of initiatives.
Implementing the Marking Scheme
We introduced in 2003 the Marking Scheme for Tenancy Enforcement in Public Housing Estates, which is applicable to both PRH tenants and Interim Housing (IH) licensees. To reflect its wider role in estate management, the scheme was renamed as Marking Scheme for Estate Management Enforcement in Public Housing Estates in 2006.
The scheme is an important management tool to ensure environmental hygiene and effective management of public housing estates. It currently covers 28 misdeeds, each carrying 3, 5, 7 or 15 penalty points according to the degree of seriousness involved. When a PRH / IH household has accrued 16 points within two years, its tenancy / licence is liable to termination.
In November 2020, written warnings were issued to 13 households under the scheme while penalty points were allotted to 168 households.
Please click the following link for more information on the scheme:
Marking Scheme for Estate Management Enforcement
Actions against Spitting and Littering
Subsequent to the endorsement by the Legislative Council to raise the penalty for cleanliness offences to $1,500 with effect from 26 June 2003, we have increased our inspection manpower to step up actions against spitting and littering in PRH estates.
In November 2020, a total of 32 fixed penalty notices were issued to 32 littering offenders in PRH estates.
Combating Illegal Cooked Food Hawking
We have been carrying out joint operations with the Food and Environmental Hygiene Department and the Police to combat illegal cooked food hawking in PRH estates. The number of illegal cooked food hawkers has dropped greatly.
In November 2020, 278 operations, including 2 joint operations with Food and Environmental Hygiene Department were carried out.
Keeping up the Drainage Ambassador Scheme
With the door-to-door inspection of internal drainage pipes in PRH blocks completed in July 2004, our Drainage Ambassadors have since continued to inspect the external pipes.
Water Testing Programme