Tennis Court Booking
Tennis Court Booking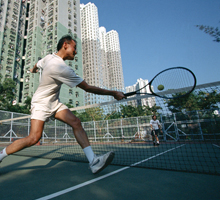 A tennis court is available for booking in Wah Kwai Estate, Hong Kong. Other tennis and squash courts located in shopping centres of public housing estates are under the management of private corporation.

Opening Hours
From 8:00 am to 10:00 pm (from 8:00 am to 6:00 pm for those tennis court(s) without floodlights).

Hiring Charges
Tennis court bookings are open to the public and specific organisations. Each session is booked on an hourly basis and starts on the hour. Hourly charge varies with lighting facility.
Booking Time (Facility)
Tennis Court Basic Charge (Hourly Rate)
Standard (with effect from 1 May 2017)
Daytime (without floodlights)
$21
Evenings (with floodlights)
$29
Concessionary Charges
The following categories of user can enjoy a 50% discount from the tennis court basic charges (Users shall produce their proof of identity for verification):
Elderly persons aged 60 or above
Full-time students with valid student identification
Schools and colleges registered with the Education Bureau
Voluntary agencies and sports bodies recognised by the Social Welfare Department, National Sports Association and District Sports Association
Disabled persons
The concessionary charge is offered only for sessions from 8:00 am to 6:00 pm on weekdays and from 8:00 am to 1:00 pm on Saturdays excluding public holidays.

Booking Procedure
Booking can be made in person at the management / estate office of the tennis court concerned during the following times. Interested parties can also call the offices for enquiries on booking:
9:00 am to 1:00 pm, 2:00 pm to 4:00 pm, Mondays to Fridays; and
9:00 am to 11:00 am, Saturdays (excluding public holidays).
Enquiries on Tennis Court Booking
Estate
Telephone
Wah Kwai Estate
2875 1097