Marking Scheme for Estate Management Enforcement
Marking Scheme for Estate Management Enforcement
The Marking Scheme is an important management tool to ensure environmental hygiene and effective management of public housing estates, thus ensuring a sustained healthy and pleasant living environment for all the residents. It helps promote among the residents a sense of civic responsibility as well as care and concern towards their neighbours and the living environment.

The scheme was introduced in 2003 as the Marking Scheme for Tenancy Enforcement in Public Housing Estates, focusing initially on environmental cleanliness and hygiene related misdeeds. It was renamed as the Marking Scheme for Estate Management Enforcement in Public Housing Estates in 2006 to reflect its wider role in estate management. It is applicable to both public rental housing (PRH) estate tenants and Interim Housing (IH) licensees.

The Marking Scheme currently covers 28 misdeeds, each of which carries 3, 5, 7 or 15 penalty points according to the degree of seriousness involved. When a PRH / IH household has accrued 16 points within two years, its tenancy / licence is liable to termination.



Misdeeds covered by the Marking Scheme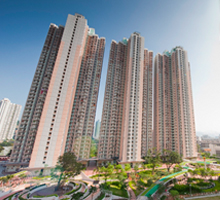 To allow tenants a chance to rectify their bad habits, we have put in place a Warning System whereby written warning is issued to a tenant committing a misdeed of a less serious nature. Penalty points however will be allotted if he / she repeats the misdeed despite the warning. There are currently 12 misdeeds falling under this Warning System:
Misdeeds that will be warned before allotment of points
1.
Drying clothes in public areas (except in areas designated by the Housing Department (HD))
2.
Hanging floor mop outside the window or balcony
3.
Putting dripping object at window, balcony or façade
4.
Dripping oil from exhaust fan
5.
Obstructing corridors or stairs with sundry items rendering cleansing difficult
6.
Causing mosquito breeding by accumulating stagnant water
7.
Causing noise nuisance (Note 1)
8.
Water dripping from air-conditioner
9.
Not allowing Housing Authority (HA) or persons authorised by HA to inspect or carry out inside the leased premises or at any area pertaining to the leased premises (including but not limited to the exterior wall, corridor wall, ventilation window, metal gate) works for which HA is responsible or for compliance with statutory requirements or for implementation of HA's repair, maintenance or enhancement programme covering the building of which the leased premises form part
10.
Refusing repair of leaking pipes or sanitary fittings responsible by the tenant
11.
Damaging down / sewage pipes causing leakage to the flat below
12.
Accumulating a large quantity of refuse or waste inside leased premises, creating offensive smell and hygienic nuisance
Misdeeds that will be allotted points without warning
1.
Littering
2.
Disposing of domestic refuse indiscriminately, such as improper disposal in lift lobbies or inside bins without cover
3.
Keeping animal, bird or livestock inside leased premises without prior written consent of the Landlord (Note 2)
4.
Allowing animal and livestock under charge to foul public places with faeces
5.
Boiling wax in public areas
6.
Smoking or carrying a lighted cigarette in estate common area
7.
Illegal gambling in public places
8.
Throwing objects from height that jeopardise environmental hygiene
9.
Spitting in public areas
10.
Urinating and defecating in public places
11.
Dumping or disposing of decoration debris indiscriminately at refuse collection points, within building or in other public areas
12.
Using leased premises as food factory or storage
13.
Illegal hawking of cooked food
14.
Damaging or stealing Housing Authority (HA)'s property
15.
Using leased premises for illegal purpose
16.
Throwing objects from height that may cause danger or personal injury (Note 3)
Note 1:
Apart from the related enforcement action under the Marking Scheme, the Noise Control Ordinance also provides legislative control over noise at any time. A tenant in breach of relevant provisions inside his / her flat will be allotted points upon conviction. In that case, the Warning System will not be applicable.
Note 2:
The Subsidised Housing Committee of the HA endorsed at its meeting on 25 September 2003 to uphold the ban on dogs in public housing estates while granting a general permission for the keeping of "small household pets" that do not pose any health hazard and do not cause any nuisance. But wild lives, exotic animals and domesticated farm animals are strictly prohibited.
"Small household pets" refer to those that are prevalent in the pet market and are generally kept in cages, display cases, aquaria or other containers so designed. Examples are cats, birds (except pigeons), hamsters, chinchillas, guinea-pigs, rabbits, tortoises, aquatic life, etc. Tenants who want to keep a cat should have the animal desexed first.
The HD has adopted the Temporary Permission Rule to handle dogs kept in public housing before implementation of the Marking Scheme. According to the Rule, one-off permissions were given to tenants applying to continue keeping those small dogs (i.e. less than 20 kg in weight) that had been kept in the leased premises before 1 August 2003. Tenants who have been granted the permission should strictly comply with the prescribed rules for dog keeping. The permission will be withdrawn if there are two substantiated incidents of creating nuisance / breaking the rules.
With effect from 1 November 2003, tenants who keep prohibited dog(s) or animal(s) inside the leased premises without prior written consent of the HA will be allotted penalty points under the Marking Scheme.
Note 3:
For households who have thrown objects from a height that may cause serious danger or personal injury, the HA will terminate the subject tenancy by issuing a Notice-to-quit in pursuance of the Housing Ordinance.



Frequently Asked Questions about the Marking Scheme
Complaint / Appeal Mechanism
A complaint / appeal lodged by a tenant on the allotment of points will first be handled by the concerned Housing Manager. If the complainant / appellant is not satisfied with the Housing Manager's decision, the case will then be handled by concerned Senior Housing Manager. If the complaint / appeal still cannot be settled, then the case will be escalated to the Regional Chief Manager whose decision on the case is final.
Enquiry
General information on the Marking Scheme can be obtained from this website and the HA Hotline (2712 2712). For details, please contact the local Estate Offices / Estate Management Offices / District Tenancy Management Offices.